UN SECRETARY-GENERAL ARRIVES IN SIERRA LEONE FOR A VISIT
UN Secretary-General Ban Ki-Moon arrived in Freetown on Monday 14 June 2010 on a two-day visit on the invitation of President of Sierra Leone Ernest Bai Koroma.
He was met at the Lungi International Airport by the Minister of Foreign Affairs and International Cooperation Zainab Bangura and other dignitaries.
He was flown from the airport to the main land by helicopter and received by a number of cabinet ministers.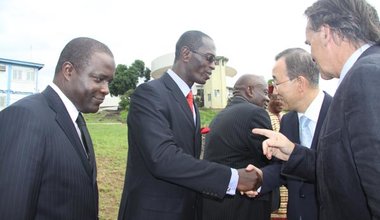 In an interview with the Minister of Information and Communications Alhaji Ibrahim Kargbo, he said the visit is of "further assurance that the UN is still with us to promote the peace process."
He said "President Koroma intends to use the occasion to explain to the UN Secretary-General the ongoing reforms in the country."
Ban will later hold closed talks with President Koroma and will visit the UN Special Court and watch a match by an amputee football team. Ban conference with President Koroma will be on Tuesday 15th June 2010 at the State House and later inaugurate the merged Sierra Leone Broadcasting Corporation (SLBC) which is made up of the local UN Radio and the formal state radio Sierra Leone Broadcasting Service (SLBS).