UN FAMILY INTRODUCES NEEM TREE AT KAFU BULLUM ON NATIONAL TREE PLANTING DAY 2010
The United Nations (UN) family in Sierra Leone recently on Saturday 5th June, 2010 celebrated the National Tree Planting Day with the people of Kafu Bullum chiefdom with the aim of raising awareness among people in that part of the country on the need to preserve trees to protect their environment.
Giving a brief background of the Neem Tree John Brima who is an Agro-forestry E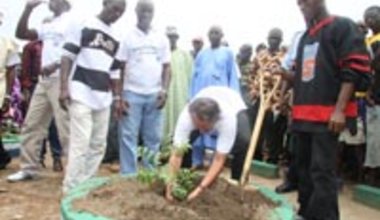 xpert in Njala University one of Sierra Leone leading agricultural institutions said the Neem is an exotic tree from South East Asia (India) which was officially introduced into Sierra Leone at Njala University National Hiberium on the 14th January 1948 by a researcher F.C. Deighton from India.
The Expert further stated that the tree which has an economic importance was introduced to the people of Lungi for the very first time. The leaf of the Neem tree serves as insecticide on farms and gardens and is also viable for medical purposes by use of its root. It is widely believed that the Neem tree can cure malaria and can recycle nutrients for pasture growth that provides palatable animal feed in Agro- silvopastoralism.
In his statement the Executive Representative of the United Nations Secretary-General Michael Schulenburg said their presence in Lungi is a demonstration of the UN's appreciation to the people of Kafu Bullum chiefdom for the support they gave to UN Peacekeeping Troops in Sierra Leone.
It could be recalled that when the UN Peace Keepers first arrived in Sierra Leone they set up their base in Lungi where the country's only international airport is located.
The ERSG said he found it ridiculous when he came to Sierra Leone some two years ago and discovered that the country was importing pure drinking water from other countries in spite of all the rain fall the country is blessed with. He urged the people of Kafu Bullum to preserve trees for the benefit of the community and also pledged his organization's continued support to the chiefdom.
The FAO Country Representative Kevin Gallagher said over 10,000 (Ten thousand) Neem trees have been given to the People of Kafu Bullum and urged them to take advantage of the opportunity to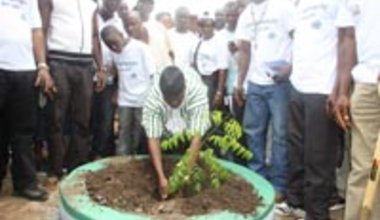 plant the trees.
"We realized that the Neem Trees will be useful to you and it can help to develop this chiefdom if only it is well taken care of and we are ready to work with you' He added.
The Paramount Chief of Kafu Bullum PC Bai Sheborah Shebah Gbareh III thanked the UN team for remembering his chiefdom and hoped that the planting of these trees will bring progress to his people. He called on the UN family to support his chiefdom as they host the gate way to the country but they are among the least developed chiefdom in the country.