UNIPSIL Human Rights Section delivers HRBA Trainings for local Councilors and development planners.
The Human Rights Section of UNIPSIL contributes to technical support to government in mainstreaming human rights in development. In 2008, capacity building was provided to government through targeted training for key central government officers on the Human Rights Based Approach to Development Programming under Action 2 programme, which aimed at "Strengthening UN support for the promotion and protection of human rights".
As a follow-up to these initial programmes, and the section's monitoring interventions, trainings on the Human Rights Based Approach to Development programming were conducted in Freetown and Kenema, between 4th to 6th July and 20 to 21st September 2011 respectively. The trainings targeted local government councilors and development planners from western Area, Kenema, Kono, and Kailahun districts, who implement programmes at the local level through the decentralization arrangement.
The first training, which took place at the Bank of Sierra Leone Complex King tom, attracted 45 participants, while the training in Kenema attracted 40 participants. The Freetown training was officially opened by the Deputy Minister of Local Government on behalf of the Minister Ambassador Dauda Kamara. While calling on the councilors to put in to practice what they will have learnt in the training, the minister noted that Decentralization which the government was implementing is "about participation, about accountability, and about enabling people enjoy their rights and the power to influence their destiny, which is what HRBA is about". The Mayor Freetown City Council, the Administrative Secretary, Commissioner Moses Kanu of the Human Rights Commission and the Chief of Human Rights Section Ms Beatriz Balbin also delivered statements.
Ms. Balbin informed participants that the training contributed to the overall mandate of the UN mission, through technical support in respect of the principles of human rights and rights based approaches to development programming. She was optimistic that the training would open further opportunitie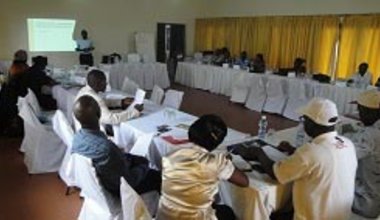 s of engagement towards practical application of HRBA in development which UNIPSIL Human Rights Section would continue to provide. During both trainings, the principles of human rights based approaches to development were explored and participants were engaged to examine their own district development plans using HRBA principles.
Practical exercises provided opportunities for discussions and experience sharing and at the end of the workshops UNIPSIL Human Rights Section was requested to support the participating local governments in implementing the approach in their development planning programmes which take place every year. In order to give more impact to these activities, the councilors promised to remain in contact with UNIPSIL Field offices for further technical support in this area.