UNIPSIL HUMAN RIGHTS SECTION ACTIVITIES
UNIPSIL HRS provides training on Sexual and Gender Based Violence for Paramount Chiefs from the Eastern province and training on Human Rights Based Approach to Development for Councilors from the Western rural and urban area. HRS also provided technical assistance/ capacity building on human rights standards to 150 officers in the Sierra Leone Armed Forces who will be deployed in Darfur, Sudan as Joint United Nations and African Union Peacekeepers. A total of 239 people benefitted from these trainings.
Regional Consultative Meetings with Paramount Chiefs on Gender Based Violence
In order to address and strengthen community-based initiatives and to support the role of traditional leaders in the prevention of SGBV, UNIPSIL Human Rights Section on 12th June organized a one day regional consultative workshop in Kenema. The workshop brought together forty-four (44) paramount chiefs (PCs) from the Eastern region from Kenema, Kailahun and Kono districts. The workshop was geared towards holding consultations that will develop common ground and to advance diverse strategies aimed at confronting GVB in their various chiefdoms.
The enactment of the gender justice laws; i.e. Domestic violence, Registration of customary marriages and divorce and the Devolution of Estate Acts of 2007 clearly marked a significant progress in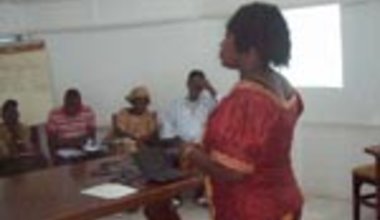 the advancement of women's rights in Sierra Leone. However there still remains the challenge of a robust enforcement of these laws especially at the rural community level where gross violations of women's rights take place. The customary legal system is also the prevailing system in rural settings. Conventional laws do not filter out to the rural settings which often lack functioning justice and law-enforcement systems.
The need to raise awareness on GBV issues among paramount chiefs could not be overemphasized. Traditional leaders are the custodians of the culture, local customs and traditions of the people. They also wield enormous influence over rural communities in Sierra Leone. As a matter of fact if traditional leaders themselves are conversant with the rights of women, the legislations that protect them and the relevant enforcement mechanism to apply, they could be used as change agents by getting them to institute by-laws and other mechanisms against gender based violence.
This forum engaged Paramount Chiefs on the Foundations and Principles of Human Rights, Sexual and Gender Based Violence and its impact on families and communities and provisions of the Gender Justice laws. Paramount chiefs identified types of gender based violence that was common to all their chiefdoms and shared best practices on curbing them. The PCs pledged themselves to embark on the following activities on their return to their chiefdoms: sensitizations and awareness rising geared towards preventing occurrences of SGBV, passing of By-laws. They also pledged to promote implementation of the Gender laws at Chiefdom level.
HRBA Training for Local Councilors
In another engagement UNIPSIL HRS on 4th, 5th, and 6th of July, organized training on human rights based approach (HRBA) to development for 45 District Councilors of Freetown City Council and the Western Rural Council. Local Councils are "responsible, generally for promoting the development of the locality with the resources at their disposal and with such resources and capacity as they can mobilized from the central government and its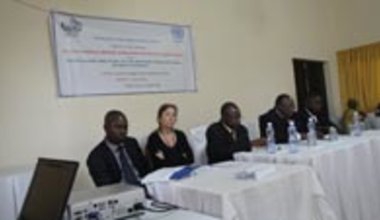 agencies, national and international organizations and the private sector"
Sessions were aimed at strengthening the capacity of councilors in human rights based approach to development. As practical development workers it is of utmost importance that councilors' perspective to development be changed from the charity based approach to a rights based approach. Sessions included: human rights standards and their relevance to development and key principles and implications of HRBA programming.
Facilitators included personnel from UNICEF and the Ministry of Finance and Economic Development
After receiving feedback from the Deputy Mayor and FCC councilors, the Chief Administrator of Freetown City Council expressed appreciation and requested UNIPSIL HRS technical support in a Council's retreat for a review of their Strategic Plan. UNIPSIL HRS intervention would benefit a wider audience of the FCC staff and councilors (between 85-90) as well as add value to their review process.
Human Rights Training for Sierra Leone Armed Forces
On 6th June UNIPSIL HRS also provided technical assistance/ capacity building on human rights standards to 150 officers in the Sierra Leone Armed Forces who will be deploy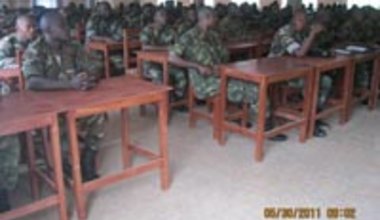 ed in Darfur, Sudan as Joint United Nations and African Union Peacekeepers. The training organized by the Sierra Leone Armed Forces and Ministry of Defence took place at the Armed Forces Training Institute at Hastings in Freetown. UNIPSIL HRS facilitated sessions on Human Rights in Peacekeeping, Child Protection, Sexual Exploitation and Abuse, Gender Equality in Peacekeeping and Protection of Civilians. The Sierra Leone Red Cross & International Committee of Red Cross also served as facilitators. The training was funded by the Sierra Leone Armed Forces, Ministry of Defence and the American Government.