Sierra Leone Joins Thousands in the World to Make Film History
Freetown, April 22, 2012 - Mr. Anthony Koroma, commissioner of the National Youth Commission, Sierra Leone, joined over 200 (mainly youths) representing secondary schools in Freetown, civil society organizations, environmental NGO Green Scenery, peace activists, university students from Fourah Bay College, Njala University, College of Medicine, Institute of Public Administration and Management (IPAM) to see the One Day on Earth film and be part of film history at the Cruzer Cinema, Lagoonda Complex, Sunday 22nd April.
Young leaders from Restless Development, Made in Salone, Young Peace Builders Network and IMPACT (Instant Measures For Practical Accountability Commitment and Transparency) a group of student volunteers from IPAM also turned out, filling the venue to capacity.
In New York the screening took place in the UN General Assembly hall with the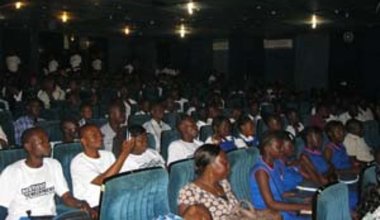 participation of the film makers, Kyle Ruddick and Brandon Litman, and UNDP Administrator Helen Clark.
"What I liked about the movie was that people were able to speak for themselves, that's what made the film so authentic. It shows the power of people in every country in the world, saying what they thought about issues," said Helen Clark.
Mr Anthony Koroma, Commissioner for NAYCOM, who spoke to the audience before the screening in Freetown, said that the documentary is an eye-opener for young people. "The film will help young people recognize the common issues affecting people around the world, as they have common aspirations. It will help them to appreciate other cultures."
UNDP Country Director in Sierra Leone, Ms Mia Seppo said: "The screening of the film means that Sierra Leone has joined the rest of the world in making film history. This is the first time that a film is screened on the same day around the world in this many countries and it will therefore set a new world record."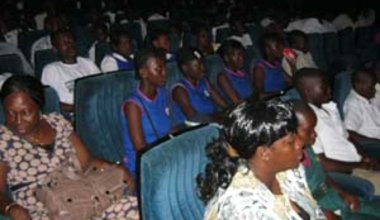 She added "The film explores a lot of themes that are important for UNDP – issues of youth, of unemployment, of the distribution of wealth, water, sanitation and so on. But above all, I hope that the film will inspire the young people present."
After the screening, Abigail Kamara, a young peace activist with Young Peace Builders Network in Sierra Leone, said "The film has helped me to appreciate what we have as a people and not always to despise what we have. Sometimes we tend to think that, always, other people are better than us here. All over the world, people are facing similar problems, we only need to work together to overcome our common problems"
More than 18,000 film makers participated in the filming of this historic documentary on a single day on Earth i.e. on 10.10.10. This generated over 3,000 hours of footage in 70 languages that the film is composed from. The film has every country in the world represented in some way or another Over 95 UNDP Country Offices globally participated in and contributed to the filming of this documentary. The film highlights priority UNDP issues, such as women's empowerment, sustainable development, cultural diversity and people working together to solve global issues.
For more information, please contact:
Karim Bah, Communications Analyst, UNDP, Sierra Leone. Tel 033167428 or via email: Abdul-karim.bah@undp.org