PARAMOUNT CHIEF DONATES A STOREY BUILDING TO POLICE IN RUTILE POLICE DIVISION
The Local Policing Partnership Board was launched in Rutile Southern region Sierra Leone on 9th July,2011, the AIG South Mr. David S. Sesay while presenting a key note address to declare the formal launching of the LPPB in Rutile enjoined members of the LPPB in the Community to take community policing to the doorstep of the civil populace through information sharing with the police in trust, friendship, mutual respect and confidentiality to curb crime and fear of crimes in the area.
UN Police Adviser UNIPSIL at the occasion attended by over 300 people across boa
rd, emphasized the need for the LPPB to partner with Police in consolidation of peace and security in the region in support of UNIPSIL mandate and the Government agenda for change to promote the development of the country.
The Southern regional Chairman, Mr. Ibrahim Iftoni urged LPPB in the area to assist the Police in informal resolution of conflicts and appealed to the mining companies in the area to assist Police with logistics and other policing needs to enhance Police performance of their constitutional duties.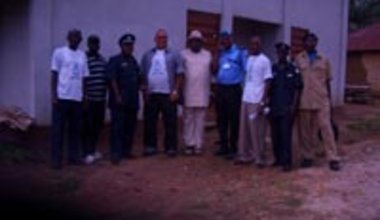 The highlight of the ceremony was the donation and presentation of the keys of a newly constructed storey building for Police Post at Banta Mokele Village in Upper Banta Chiefdom by the Paramount Chief Of Upper Banta Chiefdom-Alhaji Tommy M. Jombla to the Southern Regional Chairman of LPPB- Mr. Ibrahim Iftoni who presented the keys to UNPOL while the keys were handled over to the AIG South-Mr. David Sesay. The Regional Police Commander South-Mr. David Sesay commended the Paramount Chief for donation of the bui
lding to Police that the police authority will use the building to render efficient service to the Community.
The Paramount Chief took the AIG South, LPPB Chairman and UNPOL UNIPSIL and other relevant stakeholders to inspect and take over the storey building in Banta Mokele Village.