Helping Women Enterpreneurs Become Independent As They Build booming Businesses
An important Government goal in Sierra Leone is to make the population feel they are coming closer to the decision-making process, in an effort to rectify the over-centralization of government which was a contributory factor to the civil war. Strengthening local government is one way of doing this. This feature story describes how the UN support – through UNCDF and UNDP – helps make real differences for the livelihoods of local working people through assistance to the district and local Councils to identify and exploit available business opportunities.
The sun has just risen, but the newly-built Ngegbema Market in Kenema District is already busy and noisy. Central among the jostling crowds pushing past the packed stalls stands 70-year-old Village Chairperson, Iyie Sesay. Behind Iyie is her own market stall where there's a display of peppers, onions and palm oil on the slatted table. Just a year ago Iyie was selling her commodities on the streets of Kenema. "I was suffering under the burning sun or the floods of rain, "she says, turning to hand a bag of onions to a customer.
Multiple problems defeating a trader
"Whatever the weather, I had nowhere to escape to and no way to protect my commodities. So I was desperate to sell." The extremes of the west African climate - humidity, heat and rain - often destroyed her produce as she had no adequate place to store them. Her situation was made worse by the fact she was often sick with malaria or other illness. Because her earnings were so meagre she could not afford health treatment. Another difficulty was that she was not legally set up, had no shop for her business, and so had to occupy someone else's land or property. This meant she was often taken in by the police, forfeiting what she had earned.
Positive benefits of economic enterprise
Ngegbema Market is one of many being set up in Sierra Leone. It is not only a means of fostering local economic activity - especially for women - but also has positive benefits for the community, providing revenue for the local Council. Opened in 2010, the Market complex has more than a hundred stalls, a modern storage room and sanitation facilities. It was commissioned under the Tunkia Chiefdom in the District and is one of the micro-projects that fall within the Kenema District Economic Recovery Programme.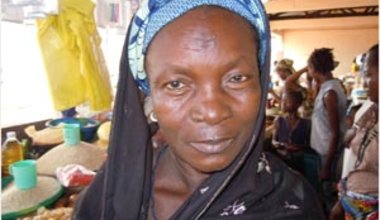 At Ngegbema Markey Iyie Sesay has boosted her market stall earnings thanks to support through the Kenema District Economic Recovery Programme (KDERP).
Empowering women represents a new beginning
"We were many women who had the same problem – and we suffered," Iyie claims. "We contacted our Council and asked for a market place." With the support of UNCDF and UNDP, the building of the market started in 2009. Around 150 people, the majority of them women, are now involved. Iyie continues, "This is just the beginning. Through the power of our cooperation we have gained the support of the local Council. In the community right now we are discussing the possibility of micro-finance loans and for building a healthcare centre."
Effort repaid by satisfied customers and well-fed children
At the other end of the market, Mrs Tianjay Kallon stands in front of her perfectly-piled hot peppers. A year ago, she was appointed Chairperson of the market. She had experienced the same problems as Iye in selling her goods on the street. "But things have changed now," she says. "While before I had to carry everything to the market in the morning and bring it back at night, now I keep my commodities in the storage room there. I earn more money now. People coming to the market know I have good quality produce." With her increased income Tianjay and her two children eat better on a daily basis. Widowed during the war, she has raisd her children alone, a task that was not easy as she was in the market all day. "There wasn't enough food at home - so they were always out looking for something to eat - now they come home after school for a good meal and stay safe in the house," she says.
Improved livelihoods all round
The successful women entrepreneurs of the Ngegbema Market are rapidly coming to exemplify the successful evolution of the Government policy of integrating rural areas into the national economy. Through support to structures that enhance cooperation between local Councils and communities the livelihoods of local working people are being dramatically improved.
...............................................................................
Photo: Therese Leijon - Busy, noisy, bustling and crowded: Ngegbema Market shows how rural areas can achieve economic integration and livelihoods can be improved when local commercial structures and entrepreneurial activities are supported.
TEXT: Therese Leijon