ERSG award certificates to the Artists for Peace for their role in ensuring peaceful 2012 elections
Freetown, Wednesday 13 February 2013, Mr. Jens Anders Toyberg-Frandzen, the Executive Representative of the secretary General (ERSG), in Sierra Leone, invited Artists for Peace to congratulate them for the role they played in ensuring peaceful and non-violent elections in November 2012 through music, dance and comedy.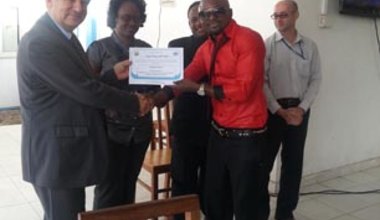 The Artists for Peace is a voluntary organization that brings together different national musicians who use music, dance, and comedy, to disseminate peace messages during period of general elections in the country.
In his meeting with members of the Artists for Peace, the ERSG commended them for their hard work and praised their efforts of reaching out to people in all parts of the country using road shows, dance and comedy, in educating the people about the importance of peaceful elections. The ERSG further urged them not to wait before another electoral period before the disseminate messages of peace but rather use post elections period to pass on messages on matters of national importance. He cited the need for constitutional reform, as espoused by the President, as one such example. The ERSG thereafter awarded certificates of merit to all the members of the Artist for Peace who participated in the peace campaigns.
The Spokesman of the Artists for Peace Mr. Aruna Dumbuya (aka Wahid) thanked
the ERSG and the UN family for according them, the Artists, such recognition. He promised to work together with the UN to further consolidate peace in the country. In his view, the elections are over but there are still some residual issues which are lingering and may require their attention as peace advocates.
The Artists for Peace was formed in 2007 prior to the presidential and parliamentary elections to disseminate peace messages during elections of that year, 2007, with support from the UN. During that period they successfully organized peace rallies, road shows, and distributed songs on peace which they jointly composed. Then, in 2008 they preached the same peace messages and held rallies during national municipal elections.
Click here to view photographs